More Information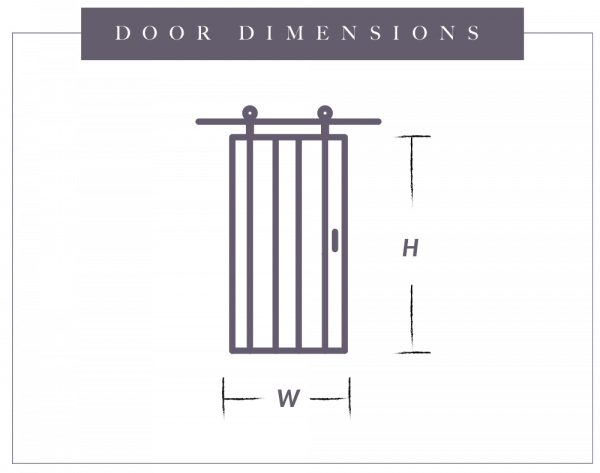 Interior Sliding Doors to Match Your Style
Sawmill Designs is proud to offer our customers the highest quality barn door on the market. From high quality materials to custom finishing, Sawmill Designs' sliding barn doors are a true way to add instant character and style to any space.
Where to Install a Barn Door
The History of a Barn Door
Historically, barn doors were hung outside of barns, sheds, and outbuildings. These sliding doors were used more for function than flair and became popular because it allowed the farmer to easily open doors without the fear of wind catching such giant doors.
Benefits of a Sliding Barn Door
Space Saver
For any room that is low on floor space, a sliding door may be just what you need to optimize square footage. Standard hinged doors can take up several square feet while sliding doors take up just inches. This feature is perfect for small spaces like laundry rooms, bathrooms, and closets.
Builder Grade to Custom Space
Swapping out a plain builder grade hinged door for an eye-catching barn door is both satisfying and stylish.
Easy to Install
You can easily install our barn doors and transform the space in under two hours.
Easy to Use
Though Sawmill Designs' barn doors are solid, high quality wood, the smooth track allows them to open and close with ease.
Customizable
With 22 finishes and 11 styles, the possibilities are endless to create a one-of-a-kind piece that's perfect for your room and personal taste.
Added Value
A custom sliding door will add instant equity to the value of your space, should you ever sell your home.
Styles of Barn Doors
Sawmill Designs carefully chose several designs to fit the needs of varying styles. Our Lexington and Wynnbrook are a more traditional, farmhouse style. Charleston and Sanibel tend to answer the need for a transitional style with clean lines. Annfield and Rochelle doors have more of a modern flair. Combined with a beautiful custom finish of your choice, each door style is functional, beautiful, and handmade. Find more information about the construction make-up of each door here.
The Difference in Our Doors
What separates Sawmill Designs' barn doors from others? The answer is simple to say—experience, quality, and customization—but has taken years to prove. Because of our affiliation with Cochran's Lumber, our expertise spans over 40 years. The products are of the highest quality white oak or authentically reclaimed lumber. Our craftsman are among the most reputable in the lumber industry. We invite you to experiences the Sawmill Designs difference. We guarantee you won't be disappointed!