A Living Room Refresh with Custom Ceiling Beams!
Feeling the need for a living room refresh in 2021, Kate Davis from Olive+Ford incorporated our White Oak Ceiling Beams with a custom White Oil finish into her January living room re-do. Along with a new coat of paint on the walls and fireplace, Kate instantly transformed her living space into an inviting room with both modern touches and a cozy, traditional ambiance. She recently sat down with us to explain why she chose white oil as her finish and offered a few tricks to make your next DIY ceiling beam project seamless and straightforward.
Sawmill Design – Can you give me just a quick background of how you came about to be a design influencer?
Kate – My start in design was completely organic. As young 20-somethings (23 & 25) my husband, Steve, and I were owner-builders of our first home. Talk about learning DIY and design on the job! That experience two decades ago led to designing for friends and family and ultimately snowballed to where I am today.
I like simple, clean, transitional spaces, but can lean either more modern or traditional depending on my mood. My three children tease me about how I made them help move furniture and tackle DIY projects when they were little, but they actually loved it! (My older two have already asked for my help in their own apartments.) Steve and I recently purchased a rental home in the Outer Banks and had a ton of fun putting our own stamp on it. Hopefully, that is the first of many such properties. I've only just begun!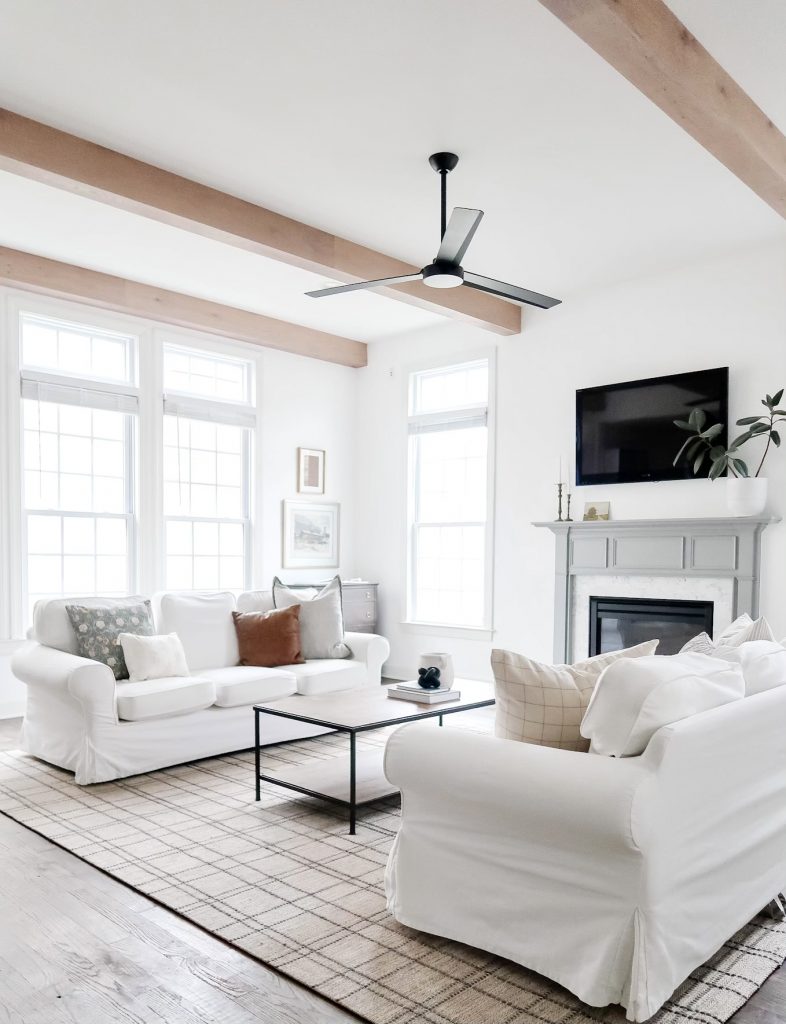 Sawmill Designs – What was the overall style you were envisioning when you decided to add beams to your living space?
Kate – My current builder-basic home was seriously lacking in architectural detail. Adding white oak beams gave this space major interest! These white oak beams have a transitional feel – bridging the gap between traditional and modern-and they'll accommodate a wide range of decor and furnishings down the road.
Sawmill Designs – Why did you pick the white oil and what are your thoughts on the finish?
Kate – White oak is a gorgeous color naturally and I wanted to pick a finish that would enhance its amazing natural tones. The white oil adds a subtle richness to the wood without changing the color.
Sawmill Designs – How long did it take to hang the beams?
Kate – Prep took about an hour (finding the joists, attaching the 2×6's), and beam installation took approximately three hours. We started after breakfast and were finished by lunchtime!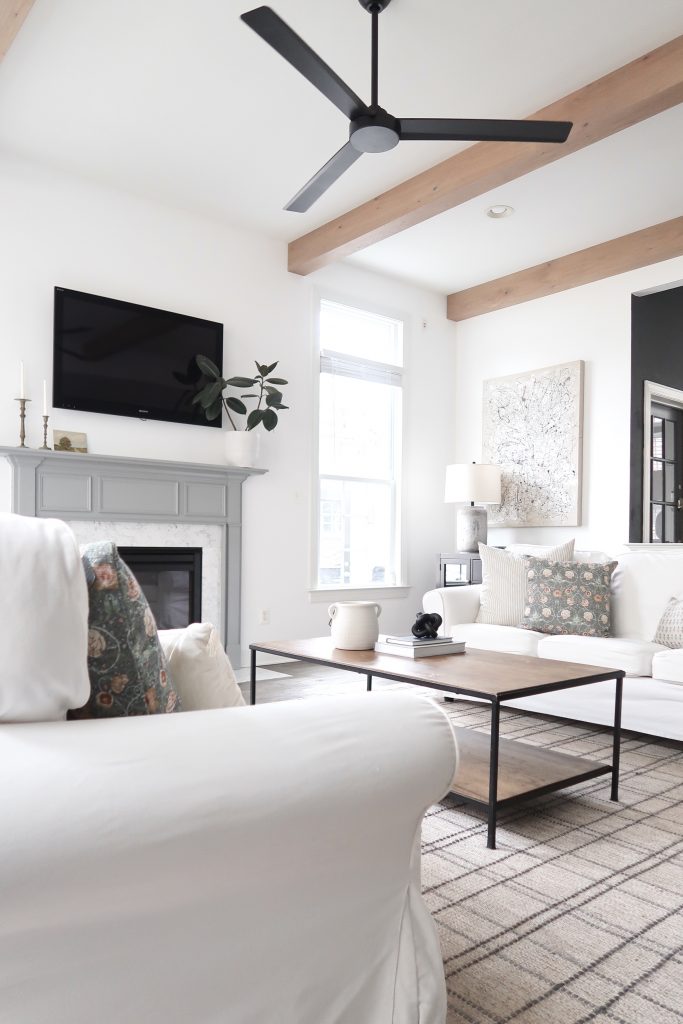 Sawmill Designs – How was the quality of the millwork and the beams?
Kate – Top-notch millwork and beautiful beams!!! My husband builds furniture for a hobby and can be reallyyyy picky; even he was thoroughly impressed! Beautiful wood. Seamless joints. Perfection!
Sawmill Designs – Any tips or tricks you can give you to DIYers who may be thinking about purchasing ceiling beams for their home?
Kate –
•Find your joists before figuring out the spacing and orientation for the beams. It's easiest to plan when you know for certain where the beams are able to be installed.
•Create mock-ups to help you visualize the size of the beam. We used several different sized boxes (one of which was a 12-pack soda box) and held them up to the ceiling to see what size felt best in our space.
•You don't necessarily have to match your flooring color to your beam color. Our wood floor has a Jacobean stain and it pairs nicely with the white oak.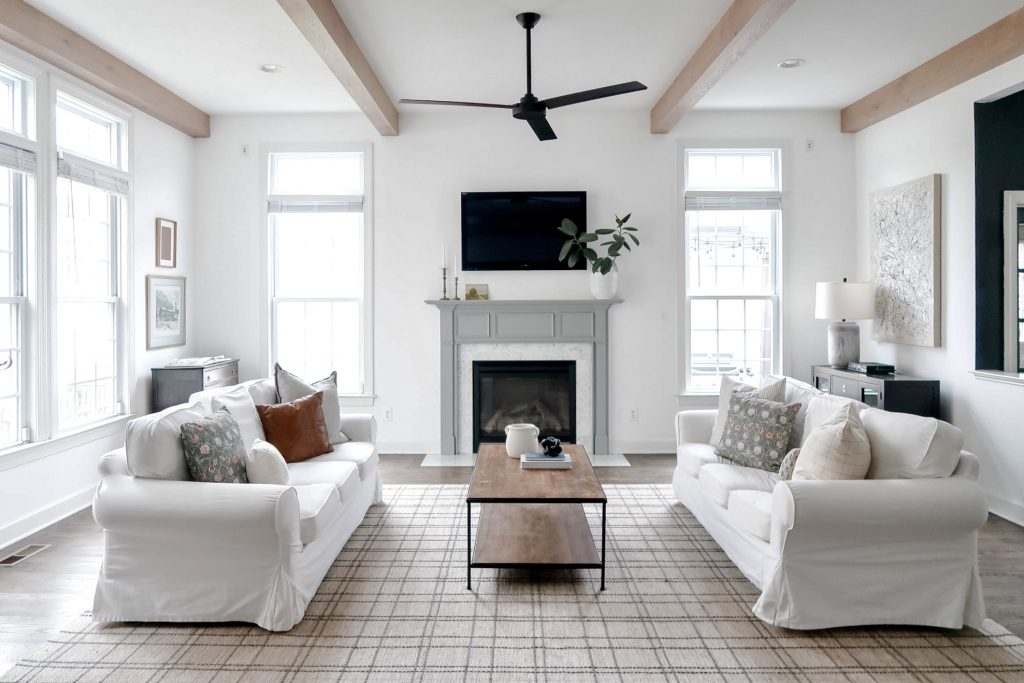 Ready to start your DIY ceiling beam project in 2021?
Check out our custom line of finishes and get started with a sample box of your favorite 5. Bonus – if you place a product order, we take off the cost of your sample box!
Sawmill Designs Inc, a division of Cochran's Lumber, is a family-owned and operated company that has been providing our clients with distinctive reclaimed and new wood products for over 40 years. From box beams to barn doors, and reclaimed barn siding, each piece is handcrafted to meet the desire of each client.